---
Getting the right style for the airport: a man's guide
Packing done, spending money got and ready to go? Once you know everything's in check, you only have one more thing to think about when you're going on holiday: the airport outfit.
You may not reckon it's a big deal, but your airport outfit can have an effect on your journey, so it's important to nail it. From feeling on-trend for drinks at the airport lounge to feeling comfy on a long flight, this SS18-inspired fashion guide will set you straight on how to dress in style and comfort when you check-in.
Work trips
Even on business trips, you have to remain comfortable throughout your flight if you're going to land ready for work. Take inspiration from your normal work wardrobe, but just tweak it slightly to make it airport-appropriate — this means not wearing anything tight and restrictive, or too many accessories that might cause a headache at security.
You'd be right to think that slightly formal is the way to go here, and if you're looking for quality, on-trend shirts for men, check is the way you'll want to go. Whether you go for larger window pane checks or a smaller grid check, a square-pattern blazer over a plain, long-sleeve, buttoned-up Oxford shirt delivers the perfect upper body style fit for a business-focused flight. Pair with stretch jeans to tone down the formality and offer you extra comfort for the journey, then finish off with tan brogues.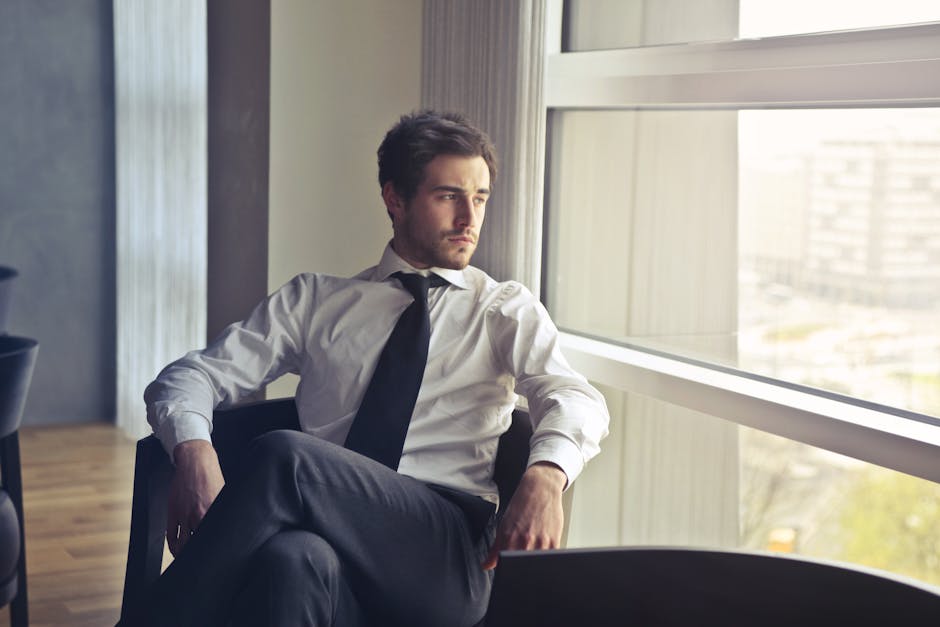 Long flights
From how long you have to wait around at the airport to how long you have to sit in the same seat, long-haul flights can be a drag if you're in the wrong outfit. So, comfort merged with style is crucial to make your commute pass swiftly.
For this type of flight, try a plain tee in a colour that matches the band on your side-stripe joggers — this clothing piece was on all the catwalks at the men's SS18 international fashion shows. Match with neutral-colour, lace sneakers that are easy to slip on and off at security and throw over a light-weight bomber, or boxy denim jacket that's easy to roll up and put under your seat during the flight.
City holidays
For a city-break holiday, think urban trends that you can wear straight out from the airport. Opt for a casual, short-sleeve shirt in a block colour and pair it with cropped, mid-weight trousers. Tonal dressing is big in men's fashion right now, so choose a colour you know looks good on you and get your top, pants and shoes in different shades of it.
A jacket might be a good shout, too — just make sure you opt for something flexible and light, like a stripe or chevron, zip windbreaker.
Short flights
Short journeys mean you'll potentially head out to explore as soon as you dump your case at the hotel. So, put together a look that fits a bar or restaurant crowd to make sure you can head straight out after check-in.
With these flights, you can prioritise fashion and the latest trends. Pull on a pair of turn-up jeans, which was a massive trend in men's fashion weeks, and combine with a contrast polo shirt for an on-point, smart-casual look that's fresh for summer 2018. Polish off the outfit with a chrome watch that's easy to take off at the security scanner, and end with a pair of suede loafers — the ideal men's shoe for summer.
Beach holidays
A week or two of sun, sea and sand mean you need to kick-off this holiday dressed for fun and relaxation.
This year's 'in-print' is tropical. Get palm trees on a short-sleeve shirt and pull on a pair of beige or white stretch shorts for a beach look that's ideal for flying. If you don't fancy wearing shorts at the airport bar, go for light-coloured chinos with a vertical-stripe shirt — a pattern that will be everywhere in men's fashion throughout summer this year. Boat shoes make perfect holiday footwear, or you can opt for slip-on canvas sneakers for the same laid-back effect.
Key airport fashion advice
Nobody wants loads of hassle at the airport. So, make your experience a breeze by following these style rules:
No lace shoes — go for footwear that's easy to remove
No belts — these often need taking off at security.
Small carry-on bag or pockets — keep your passport and boarding pass handy.
Layer up — go for multiple layers to keep your body temperature at the perfect level.
Keep it practical — don't wear clothes that are restrictive or awkward.
Socks — keep your feet cool and dry.
Land in style by keeping these simple airport fashion tips in mind on your next holiday this year.